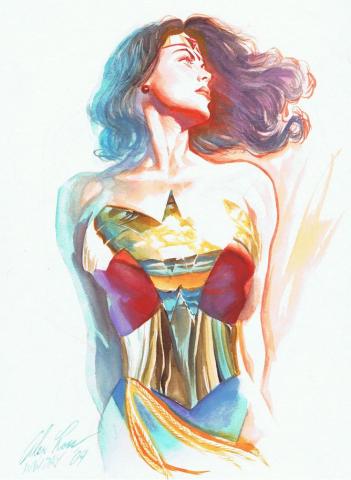 Character(s):
Production:
Studio:
Art Type:
Medium:
Artist:
THIS PRINT IS LISTED AS SOLD OUT BY THE PUBLISHER. IF YOU ARE INTERESTED IN THIS PIECE, CONTACT US FOR AVAILABILITY.
Wonder Woman: Goddess of Truth is a limited edition print created for the Alex Ross Fine Art Print Program. Featuring the Princess of Themyscira as only Alex Ross can capture her: regal, strong, and pure. She's ready to leap into battle at a moment's notice to protect those in need. Measuring 20"x16", the giclee on paper print was produced in a limited standard edition of only 50 pieces and is hand-signed by Alex Ross.
This is an Executive Proof (EP) Edition. The EP edition is a special run of prints reserved exclusively for the artist. Following the sold out print run for this piece, Alex Ross Art has made a select number of these rare EP prints available. This print comes directly from the publisher and is ordered at the time of purchase. Please allow 3-4 weeks for delivery within the United States. Please contact us with any questions regarding delivery or availability.