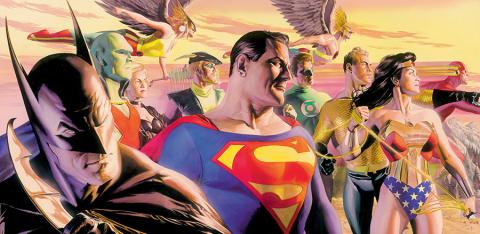 Character(s):
Production:
Studio:
Art Type:
Medium:
Artist:
THIS PIECE IS A SAN DIEGO COMIC-CON EXCLUSIVE. ONLY AP & PP EDITIONS ARE AVAILABLE.
"In the Light of Justice" is a dynamic Alex Ross illustration created for the fine art print program and celebrates ultimate DC Super Hero team, the Justice League of America. Rendered in his distinctive perspective and style, the World's Greatest Super Heroes are ready to do battle against all menacing adversaries. Measuring 21"x38", each print is hand-signed by Alex Ross and created in a limited standard edition of 395 pieces with an additional 50 prints in each of the AP, PP, and EP editions.
This print comes directly from the publisher and is ordered at the time of purchase. Please allow 3-4 weeks for delivery within the United States. Please contact us with any questions regarding delivery or availability.